LPT025-0202-E3-U2(JP13-041-04)
Industrial Ethernet is an Ethernet technology applied in the industrial field. Such technology is compatible with the commercial Ethernet, the IEEE 802.3 standard. However, the slip ring products related to the two fields are totally different. When designing Industrial Ethernet slip rings, many things are put into consideration to fulfill industrial requirements: materials, product applicability, timeliness, interoperability, reliability, anti-interference performance and intrinsic safety, etc.
Industrial Ethernet slip ring is a slip ring especially designed for industrial Ethernet transmission. JINPAT Industrial Ethernet slip ring supports various protocols like Sercos III, Powerlink, ProfiNet, EtherCAT, Ethernet/IP and Modbus/TCP, etc. It is an optimal solution for transmitting industrial Ethernet between system components.

Advantages of JINPAT Industrial Ethernet Slip Ring:

High transmission speed up to 1000Mbps.
Able to integrate many signal channels. Max channel capacity: 8 Gigabit Ethernet channels and 12 100M Ethernet channel.
Hybrid transmission of power signal and other complex signals.
Diverse slip ring models. Gigabit Ethernet slip rings optional in inner diameter from 0 to 120mm. 100M Ethernet slip rings optional in inner diameter from 0 to 200mm.
Exquisite contact materials ensure low electrical noise and super long service life.
Various kinds of connector to choose from.
Electronic & Electruc

Mechanical

Circuits

Total

16 CKT

Working Speed

0~300rpm

Det

ail

2X2A / 1Group 1000Mbps Ethernet
1Group USB2.0

Inner Diameter

φ25.4mm

Rating Voltage

24VAC/DC

Contact Material

Precious Metal

Dielectric Strength

≥500VAC@50Hz(P)
/300VAC@50Hz(S)

Housing Material

Aluminum Alloy

Insulation Resistance

≥500MΩ@500VDC(P) / ≥100MΩ@300VDC(S)


Lead Wire Length

Stator: 1000mm

Rotor: 1000mm

Environment

Remarks

Working Temperature

-20°C~+60°

Application

/

Working Humidity

≤60%RH

Other

/

IP


IP50

Note:"P" stands dor power, "S" stands for signal
LPT025-0202-E3-U2(JP13-041-04) -Outline Drawing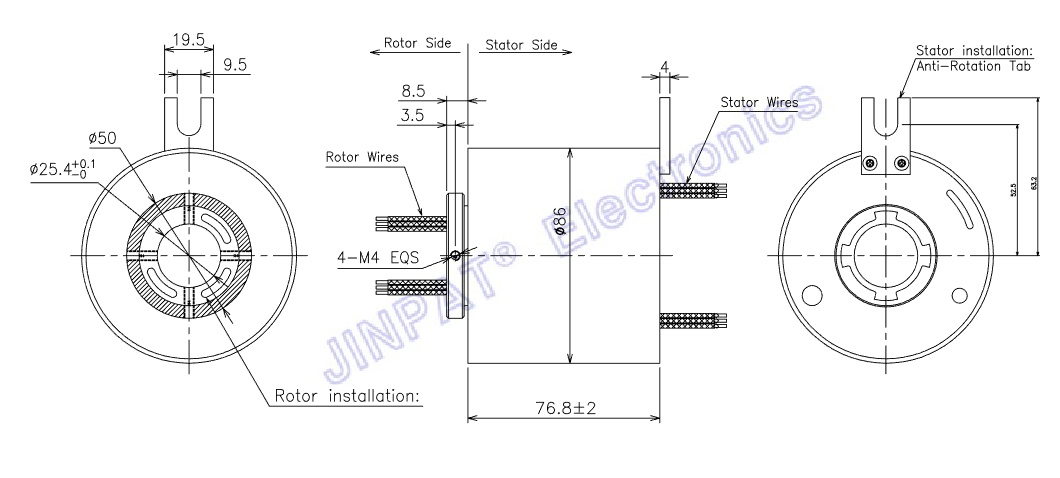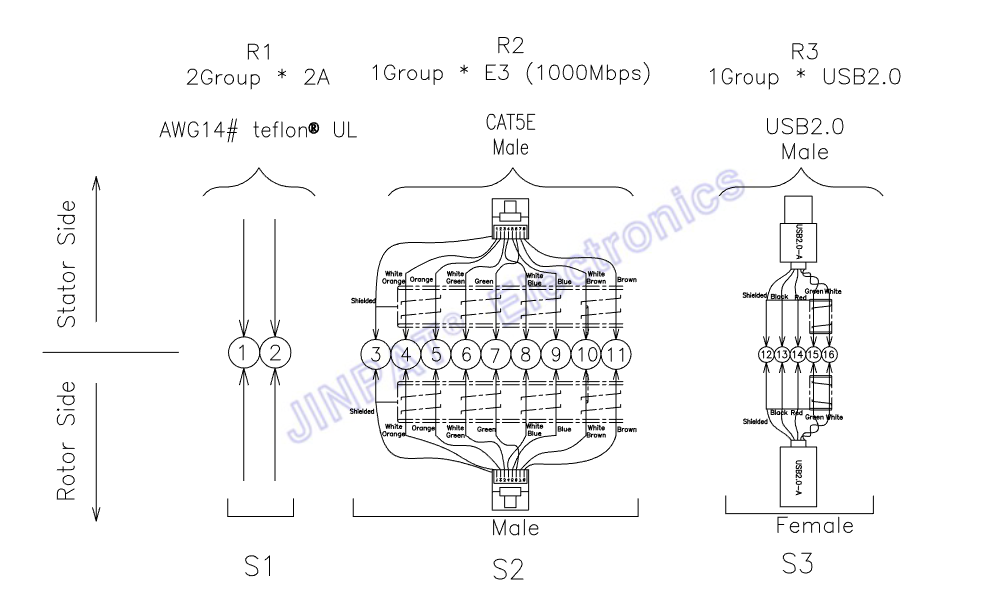 Ethernet is the conventional technology for linking devices in a wired local area network, known as LAN, or wide area network WAN. Ethernet allows devices to communicate with each other via a protocol, which is a series of rules or common network language. Ethernet is quite practical and efficient especially in automated industrial production. It helps to build a network transmission between various production machines and the control center.
JINPAT Electronics, as an experienced and innovative slip ring manufacturer, has developed Ethernet Slip Rings to fill the gap of such demand. JINPAT Ethernet slip rings are able to rotate in an unrestrictedly 360-degree while passing Ethernet signal in a reliable way. JINPAT has developed basically two types of Ethernet slip rings, one is the 100M Ethernet slip ring that can answer to most needs in practical use, the other is the Gigabit Ethernet slip ring which meets higher transmission standards. Slip rings with capacity to transmit 100M Ethernet signal are coded as E2. As for those that transmit Gigabit Ethernet signals are coded as E3. Clients can get a general idea of the slip ring function through our model code. Customer can require a through hole design slip ring, 100M Ethernet slip ring with diameter 300mm max, while Gigabit Ethernet slip ring with diameter 160mm max. Upon request, an integration of 100M Ethernet and Gigabit Ethernet is available. JINPAT Ethernet slip rings have wide applications; they can be applied in everyday electronic products as well as in the industrial scene.
JINPAT Ethernet slip rings feature high-speed transmission. And given the specialness of the signals being transferred, it is highly secure and reliable in transmission. Custom hybrid solutions with electrical slip rings and even pneumatic/hydraulic rotary unions are at hand. For the flexibility of our product and the strength of our R&D team, Clients can try out their ambitious designs with JINPAT Ethernet slip ring. Our custom integrated Ethernet slip rings take up module design, and demonstrate excellent anti-interference performance and versatile functions.