The turntable is a complex modern equipment integrating optoelectronics, and it is an indispensable and important equipment for simulation testing in the fields of aviation and aerospace.The slip ring is an indispensable and important part of the simulation turntable.JINPAT is a professional slip ring supplier engaged in the slip ring industry for more than 20 years in China, and has accumulated considerable experience in the slip ring industry.Recently,JINPAT Electronics has delivered a batch of conductive slip rings for simulation turntables, the model is LPC-0604-07S-01E3.The slip ring has a production history of more than five years. The quantity delivered this time is 100 pieces, and the total quantity delivered in history is more than 1000 pieces. The slip ring used for the turntable is not only this product. Combined with this kind of slip ring, we will learn about the unique technical characteristics of JINPAT turntable slip ring.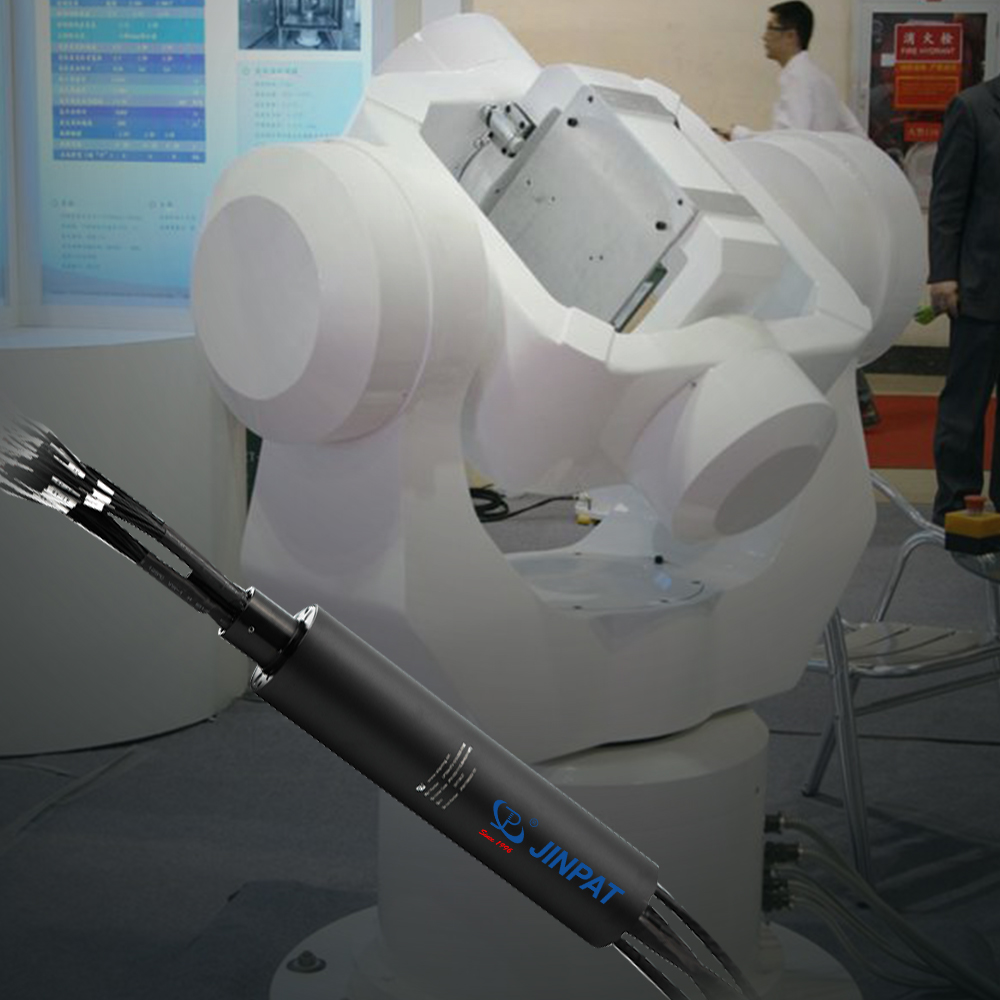 The conductive slip ring of the turntable integrates 6 channels of 4A current paths, and the signal module integrates 1 channel of Gigabit Ethernet and a group of RS signals. The length is 42mm and the diameter is only 20mm. It is a very compact custom capsule slip ring. Turntable conductive slip rings have one thing in common, most slip rings will integrate a Gigabit Ethernet channel to transmit the data collected while the turntable is running.As the main signal path of the turntable conductive slip ring, the Ethernet signal path has very strict requirements on the signal packet loss rate during operation.As a leading professional slip ring manufacturer in China, JINPAT Electronics can control the packet loss rate of Ethernet signals within a very low level.
In addition, JINPAT Electronics has a unique technology in the field of turntable conductive slip ring.On the basis of ensuring a very low packet loss rate, JINPAT integrated Ethernet conductive slip rings can be used in series with up to 4 products through exquisite and strict manufacturing processes.This is a very important key technology for multi axis simulation turntable. For example the LPM-18C series.Long product life and strong reliability are also the characteristics of JINPAT turntable slip ring.JINPAT's turntable slip ring has received unanimous praise from customers for many years, which is enough to show that Jingpei's products have obvious advantages in the turntable field.